If you're looking for a colorful ingredient to explore, purple daikon radish is a perfect choice! It has a subtle sweetness when eaten raw and is less spicy than other radishes.
This vegetable is often used in East Asian cuisines and has become increasingly popular with chefs. Here's all the information you need about this vegetable so you can use it in your recipes with confidence.
This article was written and reviewed by Cindy Chou, Registered Dietitian Nutritionist (RDN) and chef.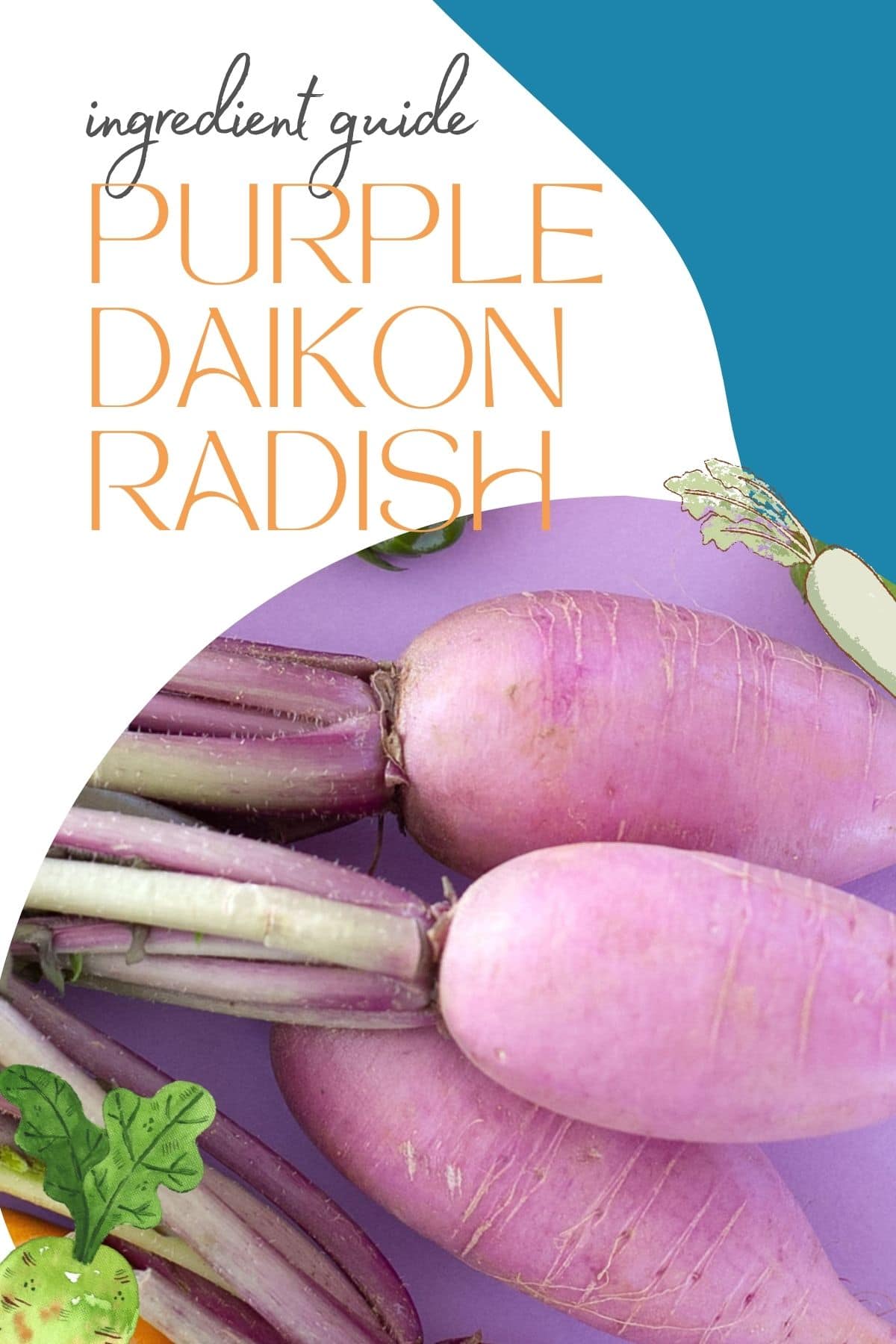 This purple radish is great for adding color to your dishes, so much so that I've used it in several of my recipes like this roasted persimmon, brussels sprouts, and radish recipe. It's also delicious by itself or simply dressed with sesame oil. I'll go over what it is, how to buy and store it, along with its culinary uses, and more below.
jump to:
what is it?
Here are some quick facts:
It's a purple variety of the daikon radish and a cruciferous vegetable, that's characterized by a long root.
In Chinese (the Mandarin dialect), the more common white daikon is called "白蘿蔔" [bái luóbo], meaning white radish, but in the U.S. it's more commonly known as "大根" [daikon] in Kanji characters in Japanese, meaning "big root." In Taiwanese, it's "菜頭" [chai tow], [lobak] or [lo pak] (meaning "radish") in Cantonese, among other names from various countries.
This variety has purple skin and white flesh. You'll see a lovely purple pattern once you cut one open (shown in the photo below). Other varieties include red, white, and green colors, with the most common being white.
Purple daikon typically has a milder flavor than other varieties and can be eaten raw or cooked.
They're often used in East Asian cuisines like Chinese, Korean, or Japanese side dishes, pickles, or salads.
The purple pigment is due to anthocyanin, the same antioxidant that gives blueberries their color.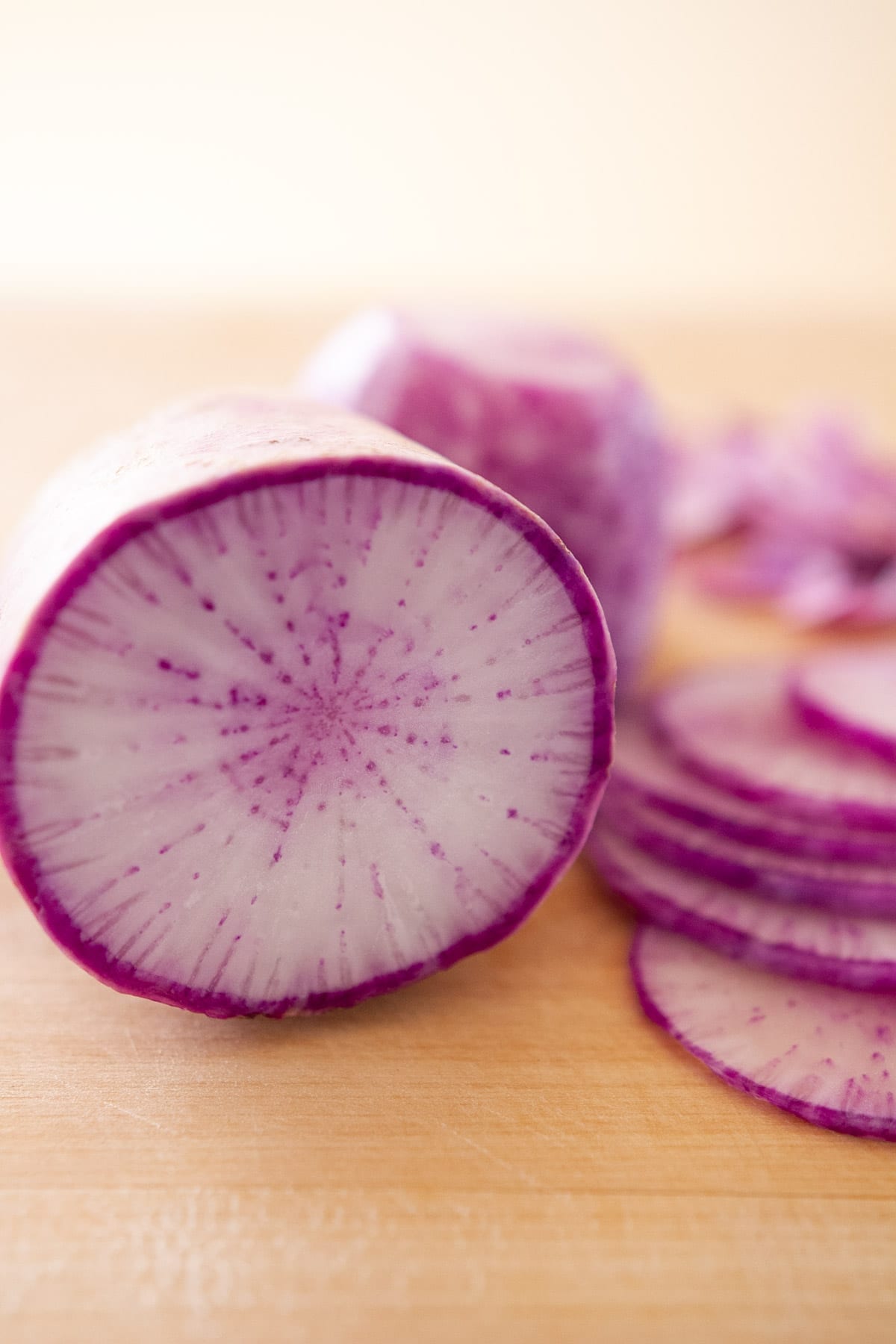 what does it look like?
Purple daikon radish has an oblong shape and can vary in size significantly. I have seen ones that are as small as 2-inches long to ones as big as the typical white daikons (about 12-inches long). As shown below, it has a purple outer layer with mostly white flesh.
I'll go over how to pick the best quality ones under the what to look for section below.
what does it taste like?
It's crisp and slightly sweet when eaten raw (I highly recommend you try it!). I would describe its texture as 清脆 [qīng cuì] or what I would call "hydrocrisp," meaning crispy and refreshing or hydrated.
When cooked, the root softens to a consistency similar to roasted turnips or carrots and the flavor becomes milder. Overall, it's a lot less spicy or peppery compared to other radishes.
where can I find it?
You can find purple daikon radishes at farmers markets (Weiser Family Farms' radishes are one of my favorites) and various grocery stores, including some 99 Ranch Markets, H Marts, your local Japanese markets like Mitsuwa, Marukai, or Uwajimaya, among others.
when is it in season?
They're usually available year-round at Asian grocery stores. In Southern California farmers markets, you can find them in the Fall through Winter starting around October. Asking your local farmer at the market might help.
what to look for when buying
Purple daikons are best when they're young and no longer than 6-inches. Larger ones are more suitable for soups or roasted dishes, though they may be more fibrous and not as pleasant to eat. The figure below shows key things to look for when picking out radishes.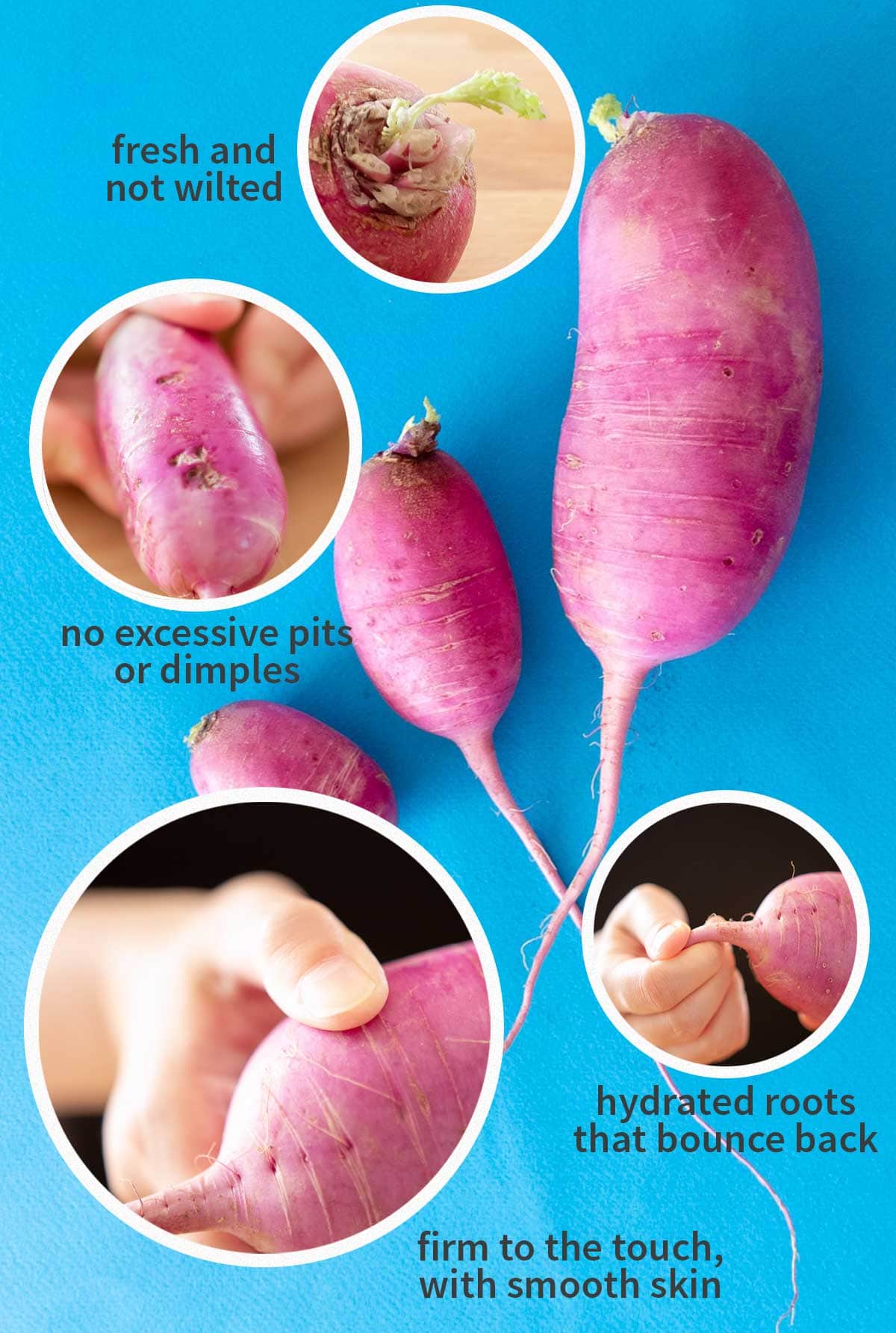 Radish tops - you may see them with or without their green tops. The tops should look fresh and not wilted and the stems should feel crisp and hydrated.
Body or root - the main part of the radish should be firm to the touch with smooth skin. Even though it's normal for it to have thin roots that look like whiskers coming out of it, you want to avoid ones that have excessive lines or roots (usually meaning it's more fibrous).
Bottom root - the bottom root should look and feel hydrated. As shown above, it should bounce back when you gently bend it.
Pits and dimples - If you care about the aesthetics of your final dish, you can avoid ones with excessive pits or dimples as shown. Otherwise, having some dimples doesn't affect the taste of the radish.
storage tips
When properly stored, daikon can last in your fridge for months when left whole. Separate the tops and store the leafy part in a container lined with a kitchen towel. The root portion should be stored in a covered container or your vegetable drawer to keep it crisp.
Large, cut pieces may last up to a week in the fridge with the cut ends wrapped in food storage wraps.
Already sliced pieces should be stored, fully submerged in cold water, in a covered container in the fridge. This prevents the slices from drying up. The longest I would store already sliced pieces is 1-2 days in the fridge.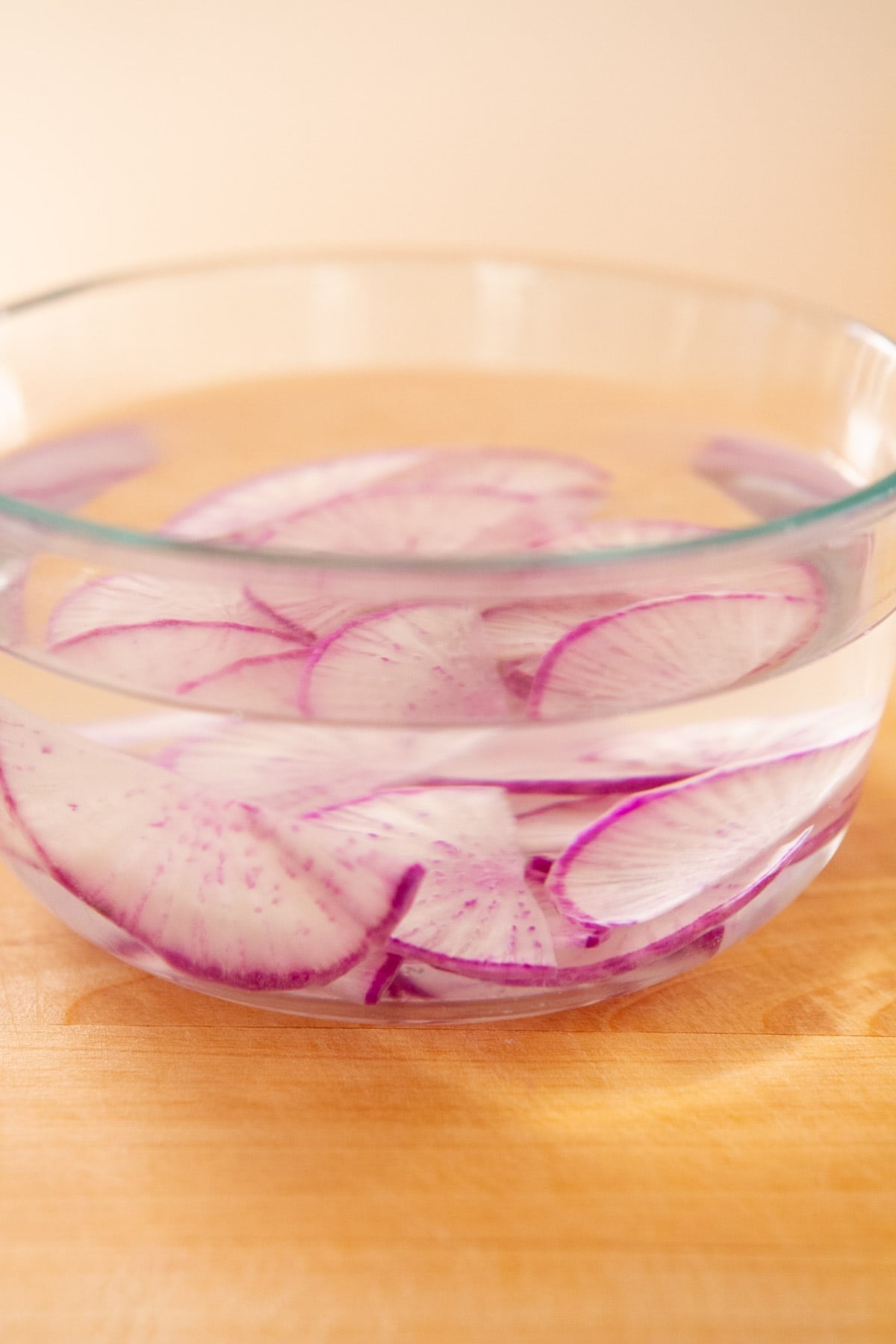 ways to use it
Purple daikon radish is a versatile ingredient that can be enjoyed raw, cooked, pickled, or dehydrated.
It tastes great raw, thinly sliced, and lightly dressed like in this recipe. The purple skin is thin and actually edible but might leave a slightly fibrous texture. I prefer to peel it when using in a salad or cold dish, but that's just my personal preference.
You can also easily add your choice of protein to make it a heartier dish - I sometimes make it with roasted chicken thighs and cucumbers.
Use it to add a pop of color and crunchy texture to roasted vegetables and fruit.
In Taiwanese cuisine, 菜頭 [chai tow] or radish is commonly used in soups like 菜頭湯 (direct translation: daikon soup), Taiwanese hotpot (my favorite!), or [o-lien'], also known as oden, which is a dish brought over from Japan.
菜頭粿 [chai tow kway] is a pan-fried radish cake dish in Cantonese cuisine (where it's called lo back go) that is not only popular in Taiwan, but also in Guangzhou, Hong Kong, and parts of Southeast Asia.
All parts of the radish are edible, including the tops and peel. The tops can be stir-fried or sautéed, just lightly cooked in soups, or in pesto.
recipes
Here are some of the recipes that I mentioned above.
substitutions
Because of its unique flavor, different vegetables will work as substitutions depending on how you prepare them.
Raw - instead of purple daikon radish, you can use peeled and thinly sliced watermelon radish for a similar flavor and equally colorful option. However, the watermelon radish is usually a slightly spicier radish and won't be as sweet.
Pickled - use regular white daikon or kohlrabi
Soups, stews, & hotpot - use regular white daikon or any other variety
Stir-fry - any variety of daikon, Japanese turnip, or kohlrabi would taste great as an alternative
Roasted - turnip, watermelon radish, or any other variety of daikon would work well
nutrition
Daikon radishes are one of many cruciferous vegetables, which have been shown to have phytochemicals or compounds with antioxidant activity that may help to reduce the risk of some chronic diseases.
Although the details of the nutrient make-up aren't that important in day-to-day life, it's a good source of fiber, vitamin C, folate, and potassium. Additionally, 1 cup (100 grams) of sliced, raw white daikon provides 27mg of calcium (about 2%DV).
food safety tips
Wash the radish under running water before peeling
Wash your hands thoroughly with soap and warm water before cooking, especially important if using raw
If using raw, you can wear gloves as an extra precaution
Store unused portions in the refrigerator (see storage tips above)
See more guidelines at USDA.gov.
Let me know if you have any questions at all in the comments below.
Happy cooking! ~ Cin
---
Want to get recipe updates, pro cooking tips, and nutrition info on East Asian ingredients straight to your inbox? Sign up here for free emails and updates.