This recipe roundup contains a curated list of the most delicious and creative rice flour recipes! This list includes many Taiwanese, Vietnamese, Korean, Filipino, Hawaiian, and Chinese recipes and will show you how accessible they are. Not only will I include some of the best recipes using both regular rice flour and sweet rice flour (which are different), but I also list why you might like each recipe. Plus, you'll walk away from this comprehensive list knowing all about the amazing benefits and uses of rice flour!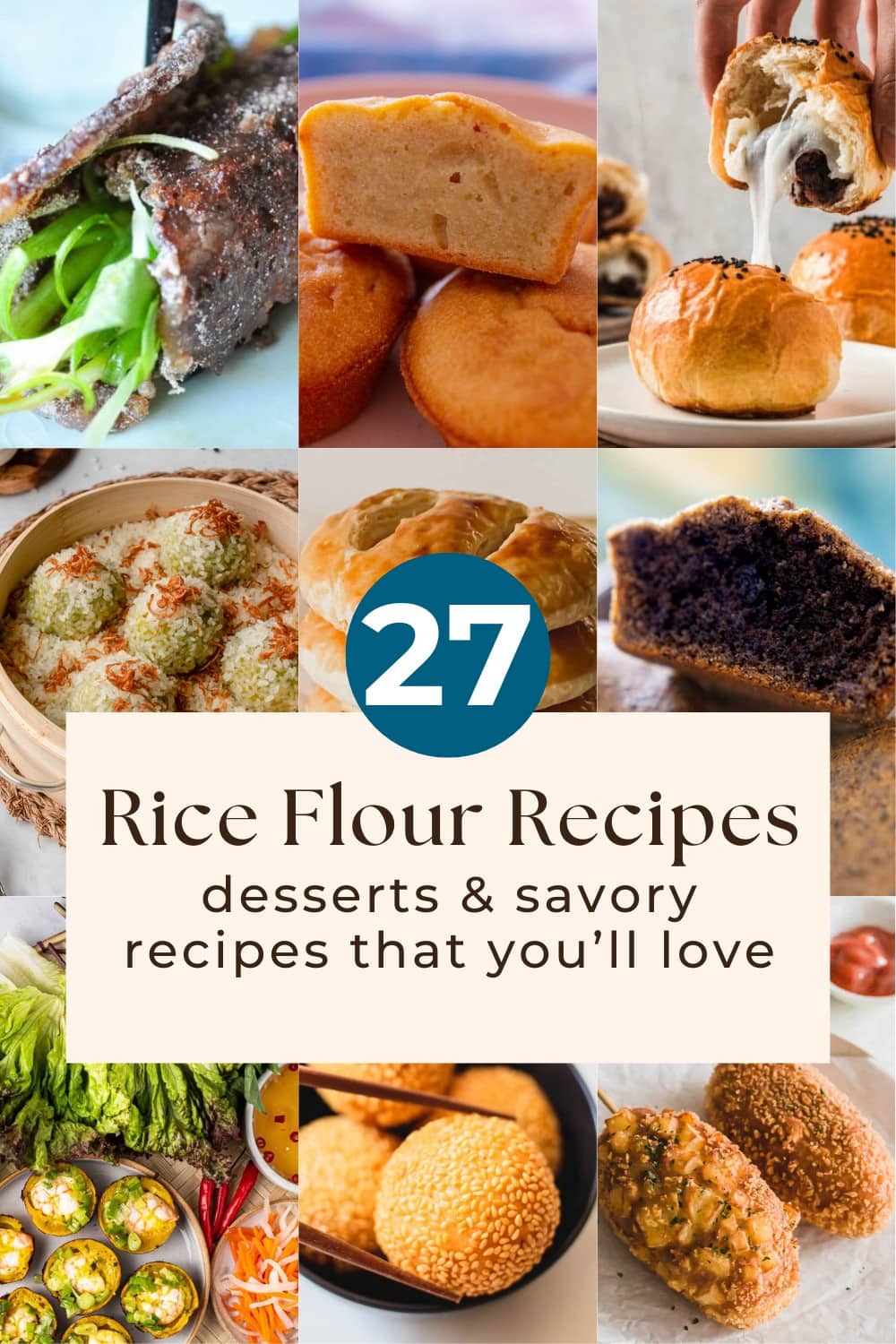 jump to:
🍚 what is rice flour?
Rice flour is basically what it sounds like – a flour made of rice! To make rice flour, rice is ground down to a very fine powder to create a naturally gluten-free thickening agent. Under the umbrella of rice flour itself, there are a few different kinds you can use for a variety of recipes.
Important note – rice flour (粘米粉, zhān mǐfěn in Chinese, sometimes described as long-grain rice powder) is different than sweet rice flour (糯米粉, nuòmǐ fěn in Chinese, also called glutinous rice flour). They have very different applications in recipes.
White, brown, and glutinous rice flour are the three most commonly used, although there are other variants as well.
White rice flour is created by milling long or medium-grain white rice (with no bran). It's a neutral flavor that can work with most recipes, but it does add a slightly chewy and stretchy texture.
Brown rice flour is produced by milling long or medium-grain whole-grain rice. It's similar to white rice flour, but its flavor is slightly nutty and more earthy. It's also a better thickener.
Glutinous rice flour is milled with either both long and short grains or only short grains. The grains consist of cooked and dehydrated kernels of glutinous rice. Glutinous rice is higher in starch and is much more chewy, bouncy, and stretchy than the other types.
Since there are multiple rice flours with different flavors and textures, the versatility of this ingredient really knows no bounds. Today I'm going to share 27 recipes, both savory and sweet, that benefit from the inclusion of rice flour!
✨ what can I use rice flour for?
Rice flour is commonly used in Asian cuisine for both sweet and savory recipes. You can use rice flour for everything from noodles, boba, pancakes, and soups! White rice flour is really good for things like snappy noodles or tempura batter. Its neutral flavor lends itself to recipes that have strong flavors because this rice flour won't compete with the other flavors.
Brown rice flour is great for baking because it has that earthy and nutty taste that will pair well with sweets. It's also a fantastic thickener for soups or stews. Glutinous rice flour, on the other hand, is all about the texture! If you want a bouncy, chewy, QQ texture, this is the rice flour you want. It's what gives boba and mochi the mouthfeel we all know and love.
If you need sides to go with the recipes I share below, check out these East Asian vegetable dishes.
📋 16 dessert recipes for glutinous rice flour
Here are some of the best dessert recipes that use glutinous rice flour (aka sweet rice flour). Many of these Asian desserts have that "not too sweet" characteristic that you might be looking for, yet they're still delicious! The sweetness can be easily customized to your liking of course.
As a professionally trained chef, I've looked through all these recipes and picked out the reasons you might like them – and listed them in bullet form so you can easily find what you want to try.
pro tip: store opened but unused rice flour in an airtight container and keep it in the pantry or somewhere cool in temperature. I like to use Rubbermaid containers (affiliate link) that are wide enough to fit measuring cups or ones that have lids with a pouring spout.
📋 11 savory rice flour recipes
Although glutinous rice flour works in savory recipes too (and is commonly used in many Asian cuisines), some savory recipes use rice flour. I'll introduce the delicious savory rice flour recipes first, then end with ones that use sweet rice flour.
savory recipes with rice flour
Not to be confused with 'sweet rice flour' aka 'glutinous rice flour,' regular rice flour makes tasty recipes too.
savory recipes with sweet rice flour (glutinous rice flour)
These recipes use the bouncy texture you get from sweet rice flour in a savory application. It's a combo you didn't know you needed!
🍲 main ingredients and equipment
Note: Some of the links below are affiliate links, which means we do make a small profit from your purchases (your price is not affected by this commission). We are a participant in the Amazon Services LLC Associates Program, an affiliate advertising program designed to provide a means for us to earn fees by linking to Amazon.com and affiliated sites. If you click on an affiliate link, you consent to a cookie being placed on your browser for purposes of tracking commissions.
The regular rice flour (affiliate link) I love and use is a Thai one, but you can also find others at your local Asian market.
For sweet rice flour (also called glutinous rice flour) recipes, I especially like Mochiko (affiliate link).
Here are some of the kitchen equipment used in the featured recipes that you might find helpful.
❄️ storage
Leftover rice flour, regular or glutinous, should be stored in an airtight container (affiliate link) and placed in a dry, cool area.
Some of the recipes listed above are freezer-friendly (noted in the "why you'll love this recipe" portion for each).
💭 faq
💭 final thoughts
I hope you enjoy making some of these rice flour recipes! If you've grown up eating rice flour-based dishes, I hope these recipes transport you to a land of sweet nostalgia and empower you to recreate your favorites. If you're new to rice flour - enjoy!
Sit down and enjoy these recipes with a hot cup of tea, iced matcha, a Taiwanese watermelon milk, or taro boba!
If you'd like some more inspiration, check out my Asian desserts category for more!
🥢 other easy recipes you'll enjoy
Looking for other easy recipes? Try recipes that use Mochiko sweet rice flour like the mochi muffins with different flavors or a delicious air fryer Japanese sweet potato:
Let me know if you have any questions in the comments below. If you make any of these recipes, snap a photo and tag me on Instagram @thesoundofcooking. I would love to see what you make!
Happy cooking! ~ Cin