Napa cabbage - sometimes called Chinese cabbage - is a staple in East Asian cuisine due to its mild flavor and overall versatility. As a professionally trained chef who has made many recipes using napa cabbage, I assure you that you can still enjoy recipes just as much with a napa cabbage substitute. 
The best substitute for napa cabbage will depend on what you plan to use it for, and I'm going to dive into each alternative and its benefits below. And guess what, there's a new type of vegetable that would actually be the best alternative for all cooking applications, but it's not as readily available.
I've listed it as the 12th substitution, so check it out and let me know if you find some!
jump to:
🥬 what is napa cabbage
Napa cabbage is a popular variety of Chinese cabbage that's used in a multitude of ways! Its subtly sweet and mild flavor lends itself to versatility.
fun fact: Napa cabbage has been seen as a symbol of prosperity and wealth!
Napa cabbage has an oblong shape and densely packed leaves that are slightly curved. This delicious Chinese cabbage is light green and white, and the crunchy leaves only get better when cooked! 
✨ what is napa cabbage good for
Due to its versatile flavor, napa cabbage can be used for nearly anything. It's delicious in soups, including hot pot, salads, dumplings or gyoza filling, and fermented in kimchi.
It's used so much in Taiwanese, Chinese, Japanese, and Korean dishes that I consider it a staple ingredient in many East Asian homes.
I love it in noodle and stir-fry dishes like my kimchi fried rice recipe, but it's also perfect for lettuce wraps, grilling, stewing, or even on a sandwich.
🙌🏼 best substitute
Take a look at this list of 12 napa cabbage alternative veggies and let me know which is your go-to swap!
1. taiwanese cabbage
My number one napa cabbage alternative is Taiwanese cabbage - also called flat cabbage. For most cooking applications, Taiwanese cabbage would be the best substitute because both varieties have a subtle sweetness when cooked.
It works great in hot pot, where napa cabbage is usually used, as well as in kimchi and other types of fermented or pickled cabbage uses.
This variety of cabbage also has thin and crisp leaves that hold up in soups surprisingly well, so it tastes great in sesame oil chicken soup or a miso soup with vegetables.
It's also delicious in stir-fried dishes like vegetable mei fun noodles.
2. bok choy
The texture of bok choy is what makes it such a great substitute for napa cabbage! It's similar in texture on the bottom of the leaves, but keep in mind that the green parts of bok choy are more delicate than napa cabbage leaves so the cooking time should be shorter (especially in soups!).
Napa cabbage has more flavor than bok choy when it's cooked, but it's a subtle difference. This substitute will work best in dumplings or gyoza fillings, stir-fry dishes, roasted or grilled, or in soups.
However, remember that regular bok choy is different than baby bok choy (also known as Shanghai bok choy). Although baby bok choy can make a good alternative to napa cabbage, it's a lot more delicate and gets soft/soggy quickly when cooked. Because of this, baby bok choy is lower on this list.
3. green cabbage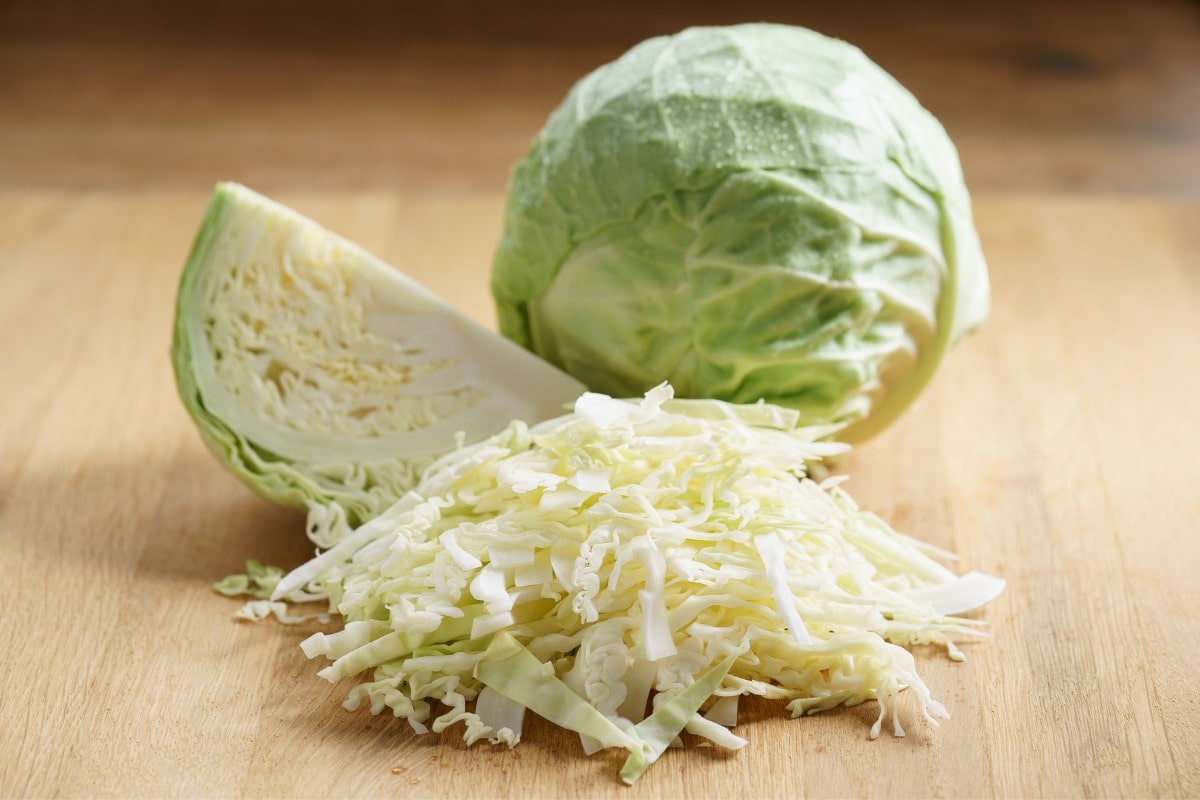 Best known for its crunchy and waxy leaves, this dense green cabbage is a pretty good substitute for the napa variation!
Since its leaves are firm while raw and tender when cooked, this cabbage can work for a variety of uses. You can try fermenting, stir-frying, sauteing, or even using these leaves as sturdy lettuce wraps.
The flavor is a bit grassy with a sweet finish that's further mellowed by cooking. Keep in mind that green cabbage turns soggy quicker when stewed, so the cooking time should be shorter than napa cabbage.
4. tatsoi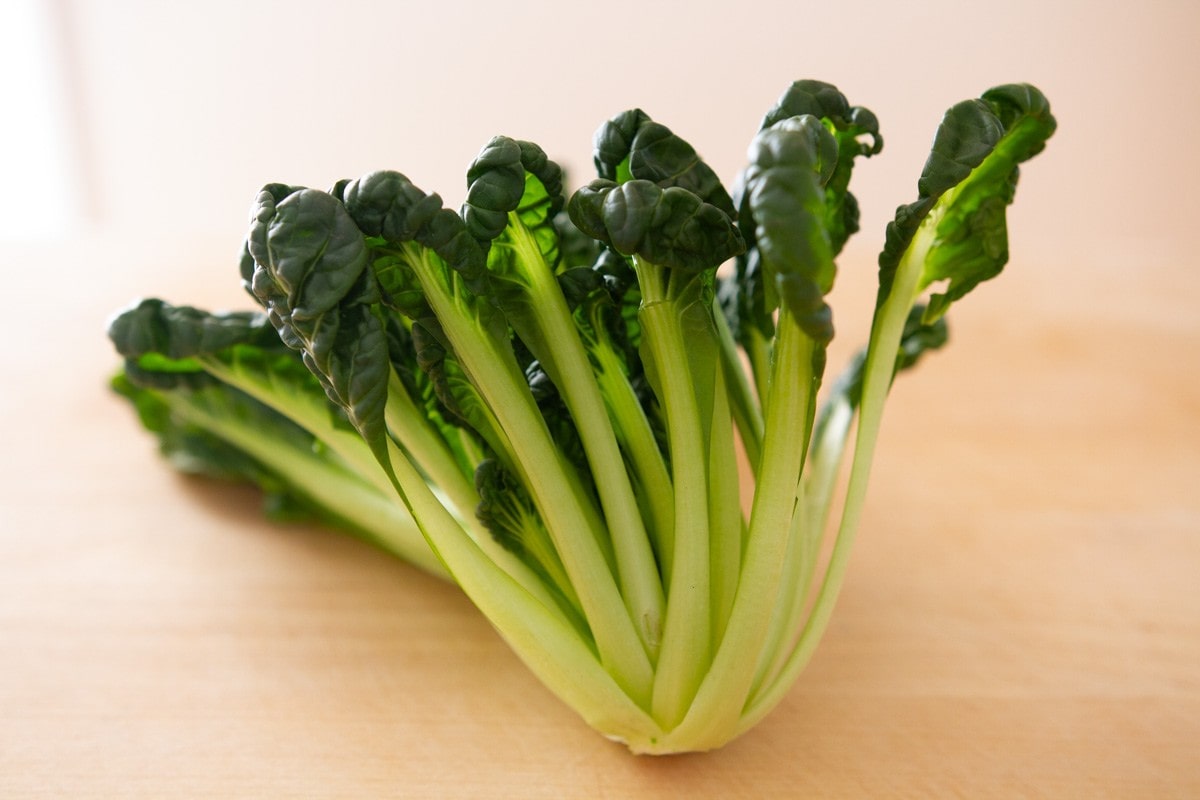 Tatsoi, also called tat choy, can be eaten raw or in salads. It has a sweet, nutty, and sort of tangy flavor. The stems sweeten when stir-fried and the texture is reminiscent of cooked spinach, but it's crisp and tender when raw.
Enjoy tatsoi as a side dish alongside the protein of your choice. If you decide to add it to soups, do it right before serving or it will be too soft.
In stir-fried dishes, you'll want to cook it for just 1-2 minutes on medium-high heat (a shorter cook time compared to napa cabbage). A wok or cast iron pan would work best.
5. baby bok choy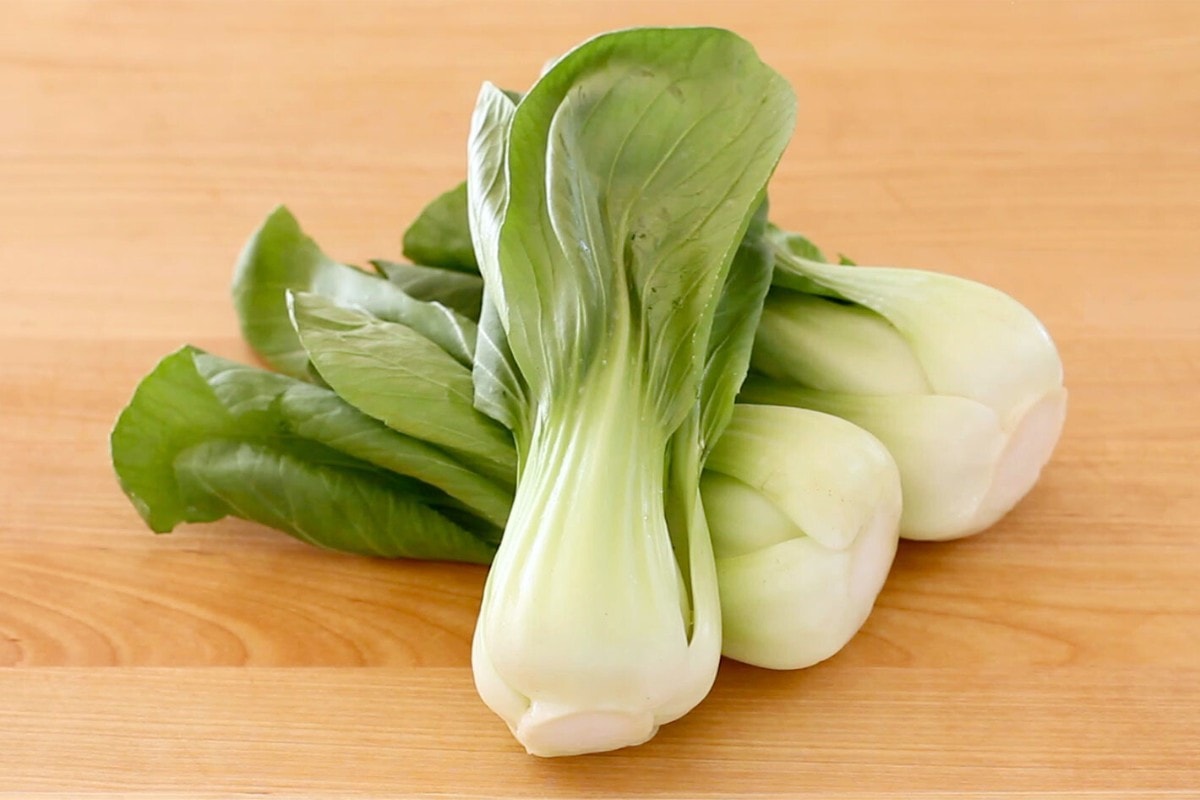 There are two types within this category – Shanghai baby bok choy and regular baby bok choy (aka white cabbage). The Shanghai version is more commonly found in US grocery stores.
Both Shanghai bok choy and baby bok choy are sweeter than regular bok choy, and they grow in leafy blades rather than heads.
Cook either option by stir-frying, sauteing, steaming, or braising. I enjoy grilled baby bok choy as an easy addition to meals, grain bowls, or as a side dish.
6. choy sum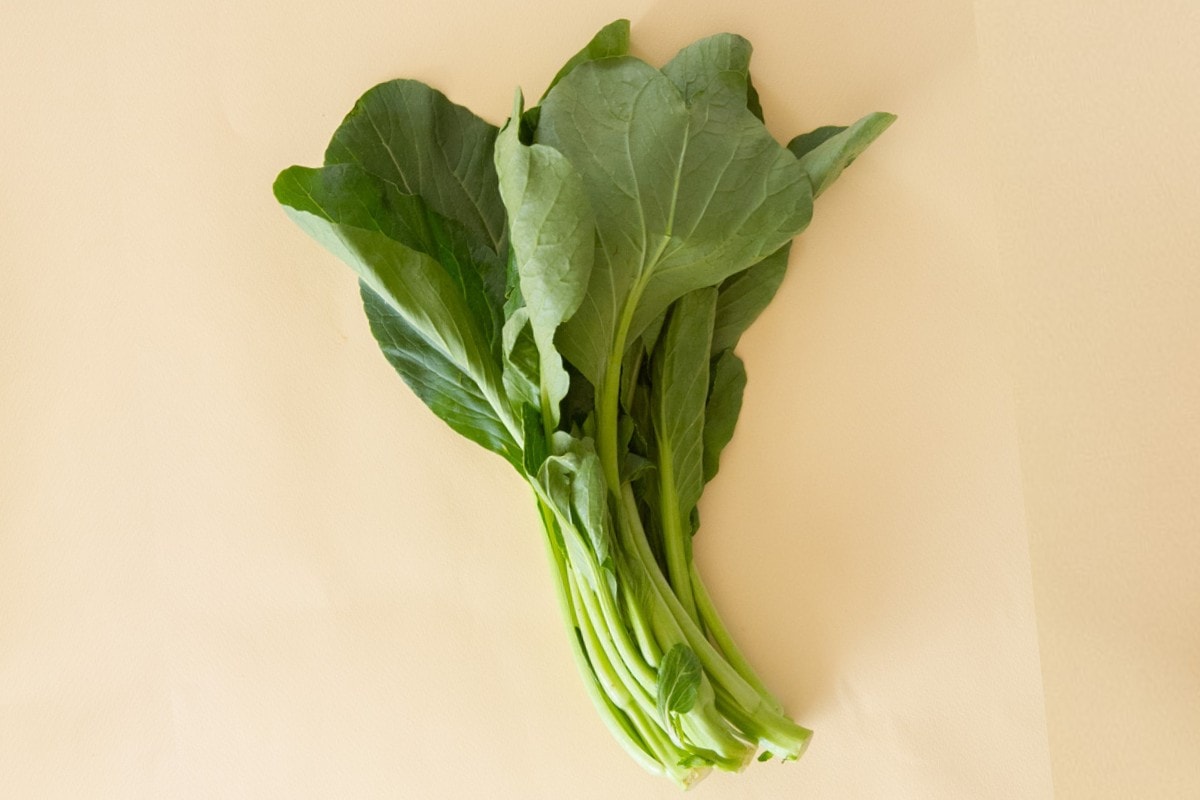 Choy sum (also called yu choy) is a juicy and tender green that flowers with tiny yellow bursts of color. It has a sometimes bitter taste depending on the age of growth.
Look for ones that haven't flowered yet for a sweeter flavor and more tender stems.
Young choy sum stems tend to be sweeter while the older ones may have a stronger flavor. Of course, the taste will change slightly and mellow a bit when cooked. 
Speaking of, choy sum is good for both raw and cooked dishes such as salads, stir-fries, and noodle or rice dishes. When using raw for a salad, look for younger yu choy and thinly slice the leaves and stems.
It's available at local Taiwanese, Chinese, and Korean markets like 99 Ranch and H Mart or online at Weee! (affiliate link), usually labeled as "yu choy" or "rapeseed greens."
7. pointed cabbage
Pointed cabbage - also called sweetheart cabbage - has a pointed leaf, as I'm sure you could guess. This cabbage also earned itself the nickname "conehead cabbage" due to its shape.
The flavor of very mild and sweet and has barely any bitter notes that come from cruciferous plants.
It's a softer cabbage so it cooks quickly. It lends itself to shredding, so it's great in sauerkraut, kimchi, or coleslaw. However, it also works well in salads and can be substituted in most napa cabbage recipes, it'll just come with a sweeter flavor.
In Chinese cuisine, pointed cabbage is sometimes torn by hand and then quickly stir-fried with oil, and fresh chili pepper, and finished with a simple sauce.
8. a choy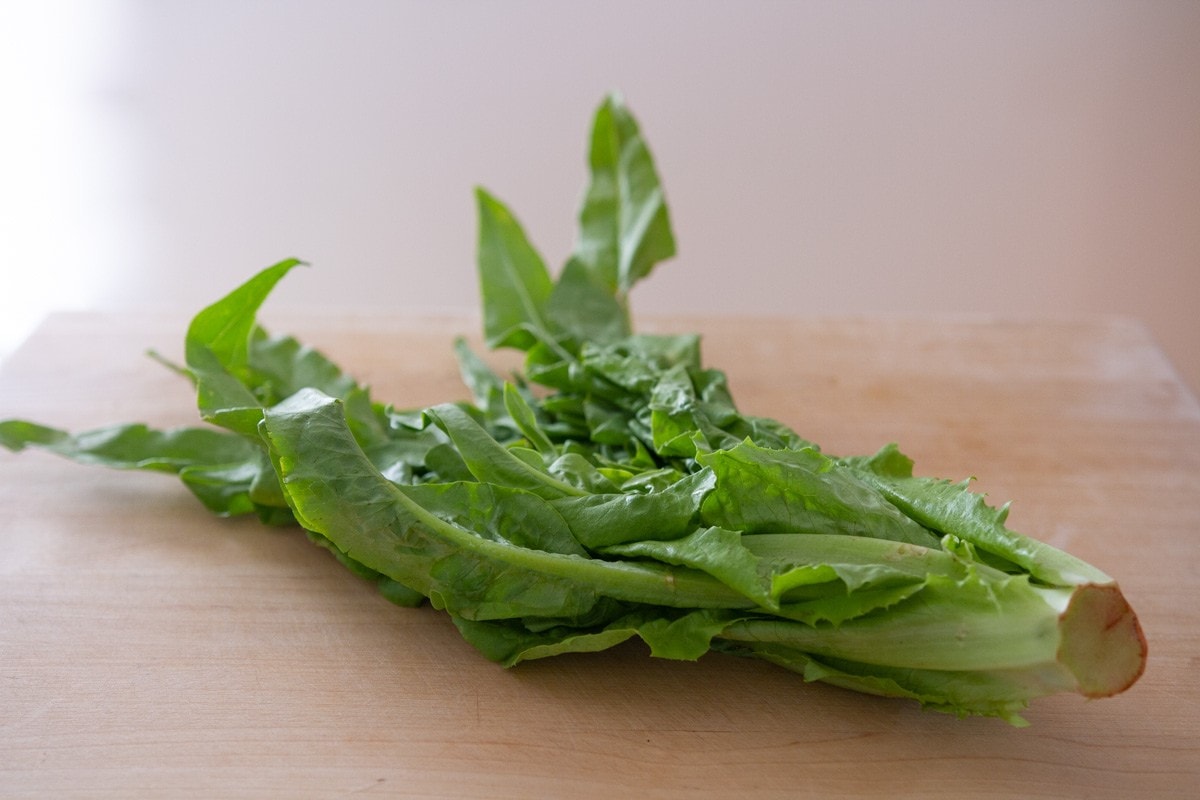 A choy, also called sword lettuce, is tender and mild with a bit of a nutty taste. The texture is akin to butter lettuce.
When choosing the recipe you'd like to sub a choy into, keep in mind that the flavor is similar to romaine lettuce. It has a slightly more nutty flavor and works in most stir-fry, salad, and noodle soup dishes (including Taiwanese hot pot!).
I've found this cabbage available at local Taiwanese, Chinese, and Korean markets like 99 Ranch and H Mart or online at Weee! (affiliate link).
9. kohlrabi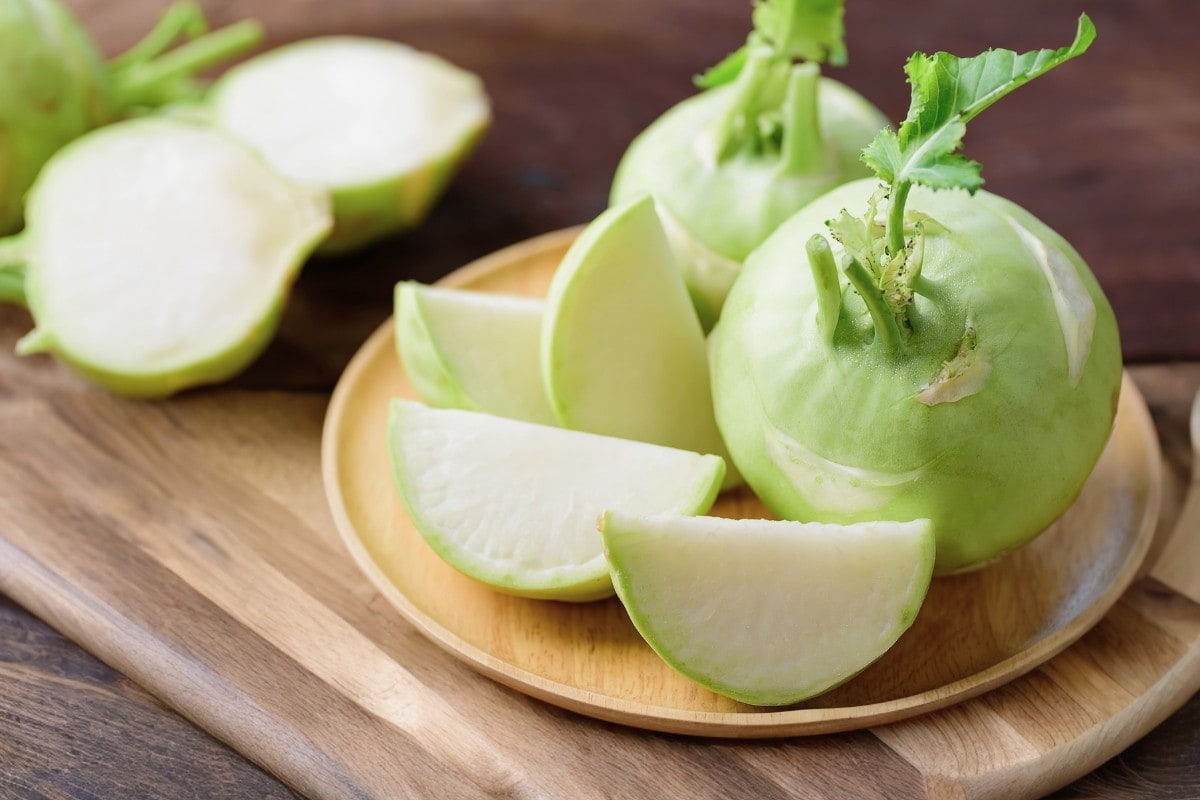 Like napa cabbage, kohlrabi tastes great fermented like in kimchi or quick pickled. It's also delicious when grilled, roasted, and stir-fried! Check out my salmon with grilled kohlrabi recipe - it's one of my favorite ways to enjoy it!
Kohlrabi - also known as the German turnip - is generally used more for its body than its leaves, but the whole plant is edible raw, or cooked. It's a juicy and crunchy texture, with a mild and peppery flavor that has bursts of sweetness. 
Before eating (or cooking) the body of kohlrabi, be sure to cut off the outer skin which can be quite tough. Watch this video to see how to peel and cut kohlrabi.
10. daikon radish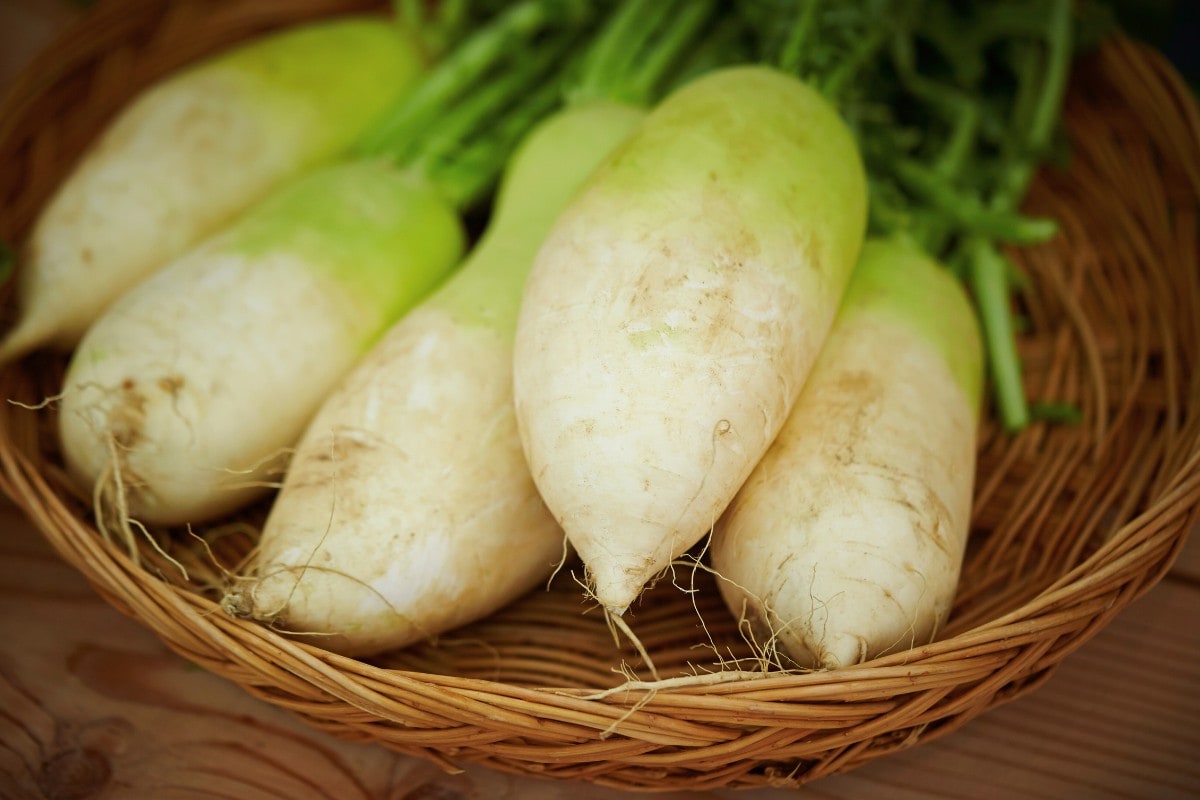 Daikon radish is a root vegetable that's reminiscent of turnip. I commonly use the roots of daikon radish for salad dishes, but the leaves are also great stir-fried.
Since you can even get a colorful purple daikon radish, it's a great way to dress up any dish with a pop of color.
The flavor changes based on the season, so it's more mild and sweet in the winter. In the summer, it takes on a more peppery flavor.
Daikon is frequently served as a balance to heavier flavors, as its taste is great raw and mellows out even more when cooked. Try daikon in a pickled dish, or even in a simple miso soup!
See this ingredient guide to learn how to pick the best daikon radish.
11. swiss chard
Swiss chard stems are more fibrous than napa cabbage leaves, so I would thinly slice the stems against the grain of the fibers for a better texture.
This leafy green is great for pickling – check out my yuzu ramen recipe that'll show you how to quickly pickle Swiss chard stems – but they can also be sautéed, baked, and even grilled. In a salad, swiss chard will add an earthiness to the mixture. 
While Swiss chard is bitter and earthy while raw, it'll take on that mild and sweet flavor when cooked (making it a decent substitute for napa cabbage).
12. sweet bok choy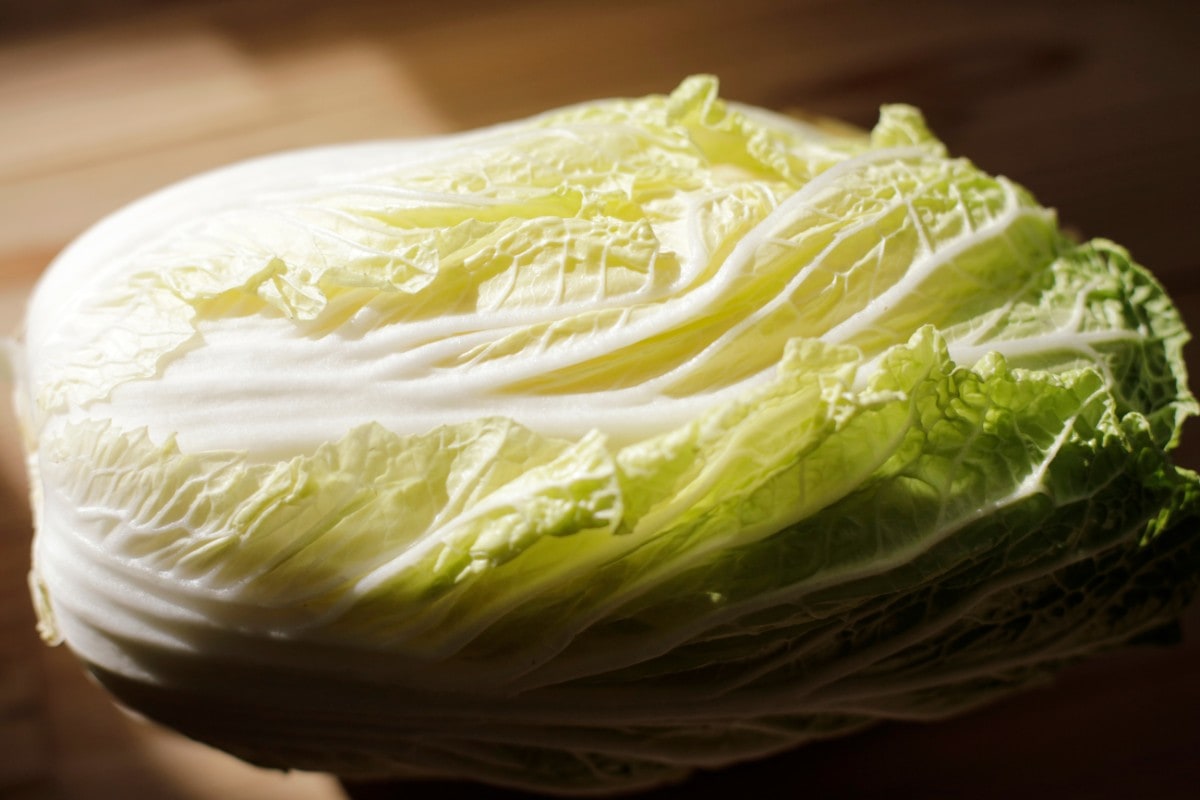 Sweet bok choy (甜白菜 in Chinese) is similar to Taiwanese Bok Choy, though slightly different. Both were developed in Taiwan, but sweet bok choy is more similar to napa cabbage than Taiwanese bok choy.
The flavors of sweet bok choy and napa cabbage are relatively the same. Sweet bok choy actually looks like napa cabbage - they tend to be narrower and leafier. It's the best substitute for napa cabbage if you're able to access it.
It's fairly new to the US market, but I've been able to find it online at Weee! (affiliate link) at times.
🚫 what not to use as a napa cabbage substitute
Kale would not work as a substitute. The leaves are more fibrous and there's a bitterness that just doesn't work for recipes that call for napa cabbage.
Other leafy vegetables that are slightly bitter like endive (which is delicious in salads when you're looking for that flavor), would not work as a replacement for napa cabbage.
Non-leafy greens other than kohlrabi, daikon, or Japanese turnips wouldn't taste good as a napa cabbage alternative either. For example, broccoli wouldn't work.
🎨 infographic
Here's a handy graphic to show you the best substitutes in one glance.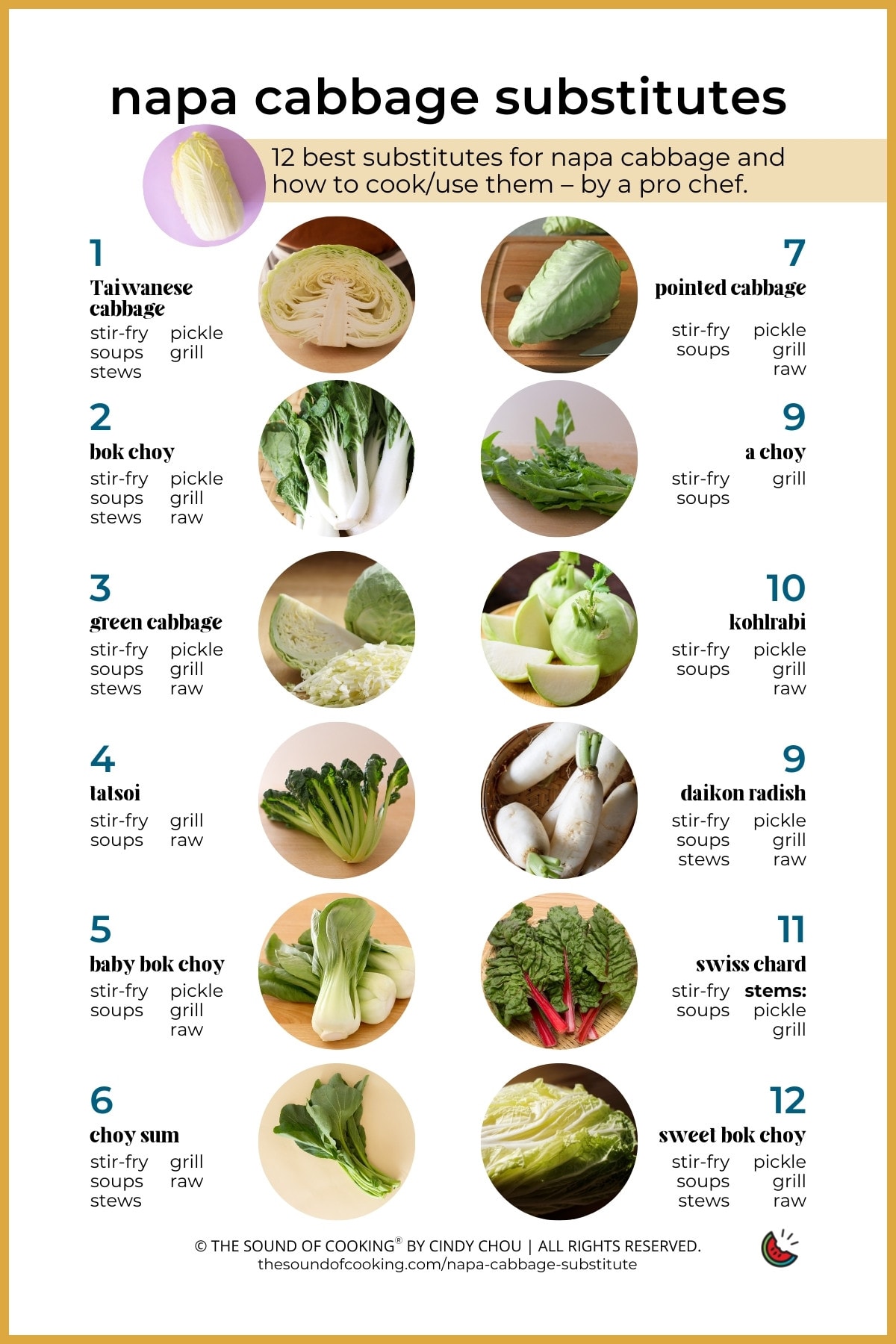 💭 faq
What can I use for kimchi if I don't have napa cabbage?
Daikon radish is popular in kimchi, but kohlrabi, bok choy, and Taiwanese cabbage can be used for making kimchi as well.

What is the difference between napa cabbage and regular cabbage?
The difference between napa and green cabbage is mostly based on their appearance, although the flavor differs slightly as well. Green cabbage is the most commonly used of the two. Green cabbage has more of a grassy flavor, but both napa and green cabbage get sweeter and milder tasting when cooked. 
💭 final expert thoughts
I hope this list empowers you to make substitutions in your dishes and try different types of cabbage!
While napa cabbage is certainly a special vegetable full of versatility, there are alternatives that will yield very similar results. Whether it's fermenting it in kimchi, stir-frying it with some noodles, or serving it as a side dish alongside fish, cabbage itself is a vegetable you don't want to pass up.
Let me know what you think of the different variations listed above. Do you have a favorite alternative to napa cabbage?
🥬 related recipes
Looking for recipes that use napa cabbage and the substitutes mentioned? Try these:
Let me know if you have any questions in the comments below.
Cheers! ~ Cin
Want to get recipe updates, pro cooking tips, and nutrition info on East Asian ingredients straight to your inbox? Sign up here for a free PDF with cozy soup recipes.